Panama City, FL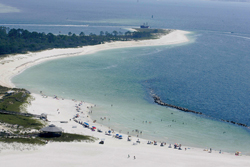 One of Panama City's great draws is its location on St. Andrews Bay and the Gulf of Mexico. Its beautiful beaches make it a popular tourist destination, but its small-town atmosphere is what encourages people to return and perhaps eventually to call it home.
In the 1880s, the St. Andrews Bay Railroad Land and Mining Company sold 25 x 82-foot lots for $1.25, which thousands of investors scarfed up sight unseen. One proud new owner called his property Floriopolis, and another referred to his land as Park Resort. In 1889, these names were changed to Harrison, in honor of Benjamin Harrison, then the 23rd president of the United States. Seventeen years later, in 1906, the name changed once again to Panama City, referencing the Panama Canal, which was then under construction.
More About » Panama City
Panama City Parks And Recreation
The Leisure Services Division provides a wide variety of recreational opportunities for citizens of all ages. The programs range from organized activities for senior citizens to baseball, softball and basketball league games and other athletic activities.
Leisure Services currently maintains over 220 developed acres that include ball fields, tennis courts, parks, community centers, two marinas, and four boat launch ramps.
The City sponsors over 1100 baseball and softball league games each year and over 300 events are held in city parks. During the course of a year, more than 60,000 city and county residents and tourists will utilize the wide variety of recreational opportunities provided by the City.
More About » Panama City Leisure
Panama City Beach, Florida
Once considered the "Redneck Riviera" of Florida's Panhandle, Panama City Beach is now a popular real estate mecca where beachfront properties have
quadrupled in value since 2000. The older hotels and homes of the past are being replaced by new high-rise hotels and condominiums.
Panama City Beach is often considered a part of Panama City but is actually a distinct municipality from the older and larger inland city. PCB maintains 37 parks that offer swimming, fishing and boating, nature trails for hiking and biking, picnicking, golf and tennis. The largest of the parks is St. Andrews State Recreation Area, which opened in 1951 and covers more than 1,200 acres. It is best known for its white sand beaches, natural dunes and crystal-clear water. During World War II, it was part of the St. Andrews Sound Military Reservation, and you can still see the cannon platforms in place near the jetties today.
More About » Panama Beach City
Cruises, Travel, and Attractions: Tampa, FL
For the most part, if you want to take a memorable vacation and get the most for your hard-earned cash, you have two options: You can sacrifice price in the name of convenience by seeking
the services of a traditional travel agent, or you can spend countless hours staring at your computer screen all hours of the day and night, anxiously waiting for airlines and cruise companies to temporarily drop their prices.
There is an alternative, however, that not only eliminates wasteful spending but also does away with the need to visit multiple web sites, desperately searching for that perfect deal-the one that fits your schedule, fulfills your dreams and falls within the guidelines of your own budget. Cruises, Travel and Attractions (CTA), as seen on The Travel Channel, is now open in Tampa, Florida and offering discounts and services to Florida residents. CTA bridges the gap between financial considerations and customer service by customizing any type of vacation, anywhere in the world at the lowest price possible-then sweetening the pot by rebating a portion of the cost of the vacation back to you.
More About » Cruises, Travel, and Attractions